Resume

Hometown: Lincolnton, NC
School: North Carolina University of Charlotte – Motorsports Engineering
RYAN HEAVNER CAREER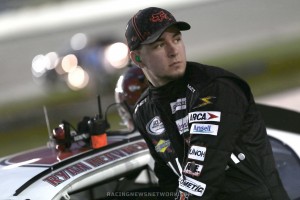 Ryan Heavner comes from an entire family of racers. Ryans' mother raced karts for several years and Ryans' father raced late models for around eight years until Ryan mentioned he had an interest in racing himself. Ryan has been around racing since he was born, it is in his blood stream and he is a natural at what he does.
Heavner began his career in 2004 running the Dirt Naskart Kids Division.
He has since competed in several divisions of the motorsports ladder: Pro Challenge, USAR Pro Cup, and ARCA.
He acquired approval to compete on the NASCAR Camping World Truck Series circuit. The team is currently seeking sponsorship to facilitate their climb up the NASCAR ranks.
In 2019, he will graduate with a BS in Mechanical Engineering. He worked with Stewart-Haas Racing as an intern on their NASCAR Xfinity Series team.
Today, Heavner is back to the purest form of racing, karting. He currently competes in the Pro Karting class with his family owned operation.
ARCA/PRO CUP CAREER STATISTICS
Starts: 33
Top Fives: 4
Top Tens: 16
2022
STARTS: 81
WINS: 15
TOP 5's: 55
2021
STARTS: 78
WINS: 5
TOP 5's: 39
2020
STARTS: 63
WINS: 8
TOP 5's: 38
2019
STARTS: 39
WINS: 5
TOP 5's: 24
2018
STARTS: 30
WINS: 10
TOP 5's: 22
2017
STARTS: 72
WINS: 23
TOP 5's: 57
2016
STARTS: 41
WINS: 8
TOP 5's: 24
2016 Animal Super Heavy National Champion
2016 Triple Crown Winner in the National Karting League
2015
2 Starts: ARCA Racing Series
1 Start: ChumpCar World Series
2014
1 Starts: ARCA Racing Series
2013
5 Starts: 2 Top Ten Finishes
4 Starts in Pro Cup X1R Series and 1 in ARCA Series
2012
6 Pro Cup Starts: 2 Top Five Finishes, 6 Top Ten Finishes
2011
6 Pro Cup Starts: 1 Top Five Finish, 1 Top Ten Finish, Remaining top 15 except for Mechancial Issues
October 2011, Toledo Ohio (ARCA SERIES DEBUT): Qualified 16th, Finished 13th
2010
USAR Pro Cup Rookie…14 Starts with 6 Top 10 Finishes, Finished 2nd in Rookie Standing, 3 Rookie of the Race Honors and 2010 USAR Humanitarian of the Year Award
2009
Pro Challenge Series….23 Starts, 4 Wins, 13 Top Five Finishes and 5 Top Ten Finishes
2008
Ran 58 races..56 Top Ten Finishes, 50 of those were Top Five Finishes and 20 Wins.
2007
Ryan won a double Championship in the N.C. State series in both the Jr. Sportsman 2 Lite and Heavy divisions.  He represented N.C. in the 1st Annual Maxxis National Championship and made N.C. proud by bringing home a National Title. Ryan ran 69 races..55 Top Ten Finishes, 38 of those were Top Five Finishes and he sat on 9 Poles with 12 Wins.
2006
Ryan left the local ranks of racing. Ryan finished 2nd in the Tri-State Jr. Sportsman 1 Lite and 3rd in the Jr. Sportsman 1 Heavy divisions.  He also finished 2nd in the American Karting Association Series. Ryan ran 31 races..25 Top Five Finishes, with 6 Poles and 6 Wins.
2005
Ryan incurred a broken leg and missed a partial part of this years season.  When he resumed racing, he won many features, but no championships this year due to his injuries.
2004
Ryan began racing at the age of 6 in the Dirt Naskart Kids Division with a replica of the Geoff Bodine Exide Kart.  Ryan began a full season of racing in 2004 where he won the track championship with a total of 24 straight wins.
FUTURE
Ryan Heavner is determined to follow in the racing footsteps of some of todays top drivers.  Ryan gives all the credit for his accomplishments to the Lord Jesus first and foremost, then too his family who supports him fully and strives to aid in helping Ryan accomplish his future goals.