Ryan Heavner in a battle for the Tri-State Pro Series championship
It's been the goal all year. However, since round 3 the team has been digging themselves out of a hole.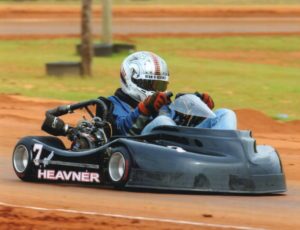 Round 4 put Ryan Heavner Racing trending in the correct direction. Ryan Heavner swept the weekend. He took both poles and both wins in the Pro Super Heavy as well as the Super Heavy divisions.
Ryan Heavner went into the 5th round of the championship last weekend. The team unloaded at Paradise Raceway with one goal; to chip away a little more in the championship point battle.
He was on pace to do it! Ryan Heaver sat on pole in the Super Stock Heavy division. The green dropped and he maintained the lead. 4 laps remained, Heaver was en route to the win. While leading, the hub broke on the chassis. Ryan Heavner was force to a DNF result.
The crew swept that result from their minds. They went to work on the setup for the following Pro Super Heavy race. Repairs were made but the setup was missed. After starting 3rd Heavner fell through the field. He finished 13th in Pro Super Heavy.
It was a costly weekend. Ryan Heavner now sits 2nd in Pro Super Heavy points. He's just 4 points behind Clint Cash. In the Stock Super Heavy division Heaver is 5th in points, 17 points behind the point leader.
Only 1 race remains on the 2017 Tri-State Pro Series schedule. The championship is still up for grabs in the Pro Super Heavy division. Stock Super Heavy, it's possible but it would take a miracle.
The final round of the Tri-State Pro Series takes place this weekend at the Georgia Karting Complex.
Then, Heaver will head to the Nationals in Neeses SC. Ryan claimed the Stock Heavy Animal National Champion at Thunder Valley Speedway in 2016. This year, he will be competing for the Super Heavy Championship on Sunday.
After that, Heavner will head to the 24th Annual Thanksgiving Thunder. The event will also be hosted at the coveted Georgia Karting Complex. That event in on November 23-25th.
Author: Walters Web Design
Ryan Heavner
https://www.RyanHeavner.com
https://www.twitter.com/Ryan7Heavner
https://www.facebook.com/RyanHeavnerRacing
Gary Freeze – The Speed Clinic
Facebook
About Ryan Heavner
Ryan Heavner currently competes in the National Karting ranks where he's collected several National titles. He is also a former driver of the ARCA Racing Series.